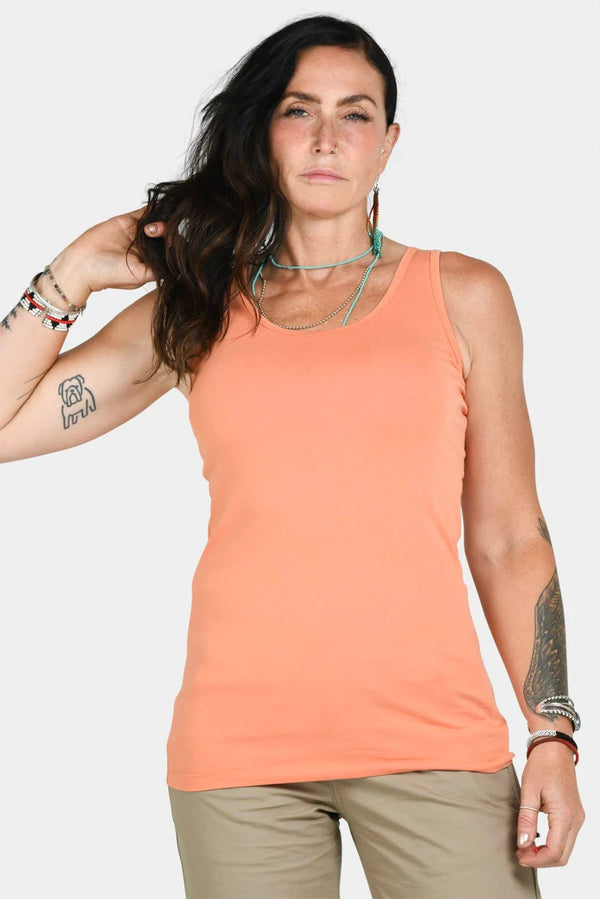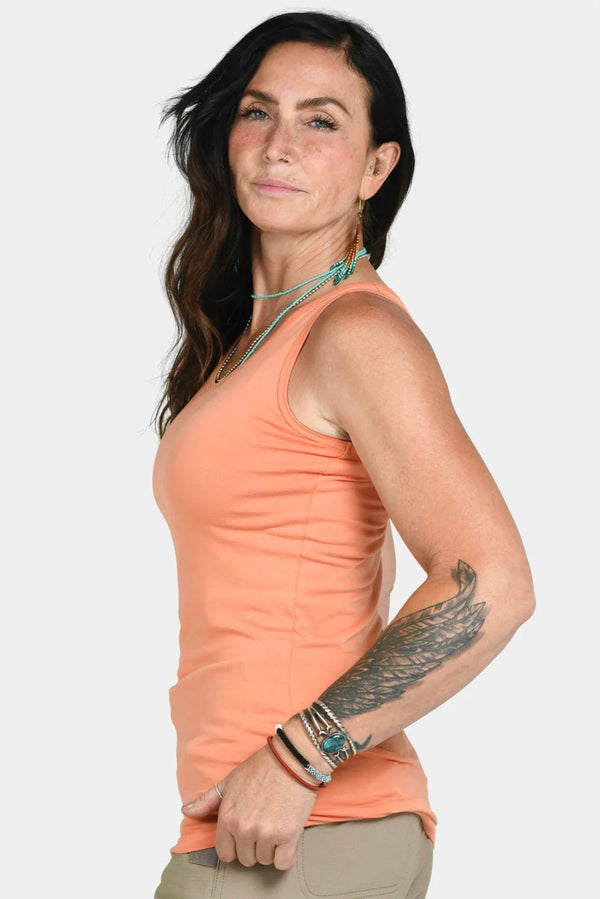 Dovetail Women's Solid Tank in Sunbaked. 
Once upon a time, there was a tank. And it was perfect. The end.
Slim fit. Hugs your bod.
Good coverage. Built for work.
Power stretch. Won't ride up.
Ultra-breathable. So comfy.

Color: Sunbaked (coral/orange/pink)
Tank tops that ride up when you work? That's not Dovetail-y. This tank is extra long, with loads of stretch so it stays in place. A higher scoop neck at the back doesn't skimp on sun coverage.
We love our friends at Interloop in Pakistan, who made these tanks for us. With an inclusive workforce and a strong track record of eco-friendly materials and community empowerment, Interloop's values dovetail with ours.
Ultra breathable cotton meets yummy stretch.
Midweight Jersey
Fabric content: 95% cotton/ 5% spandex
Gorgeous cotton makes for a cool, breathable tank. Luxurious stretch means it's extra comfy, moves when you do, but also knows when to sit still and hug your bod. 
You got it dirty, now get it clean.
We get it's tempting to wash that dirty top in hot water and tumble dry the hell out of it. But like any high-quality tool, this one will last longer with TLC. Heat messes with our special stretch sauces and secret weatherizing potions. And it can shrink, warp, and otherwise damage the fine fabrics that make Dovetail Workwear sturdy, comfortable, and tough on the job. So for a long life, wash cold, and hang dry or tumble low. The planet will thank you too.
Turn inside out.
Wash cold.
Hang dry.
If you must tumble, tumble low to damp dry.
Style:
Dws23tt1-805
*PRODUCT INFORMATION PROVIDED BY DOVETAIL: